Enhancing Trade and Industrial Development - A Game Changer For Africa's Growth
On behalf of the GIZ regional project "Promotion of the rule of law and judiciary in Africa," the ILI- South African Centre for Excellence would like to officially invite you to partake in a 2-day webinar on the AfCFTA agreement, on Tuesday May 25 and Wednesday May 26, 2021. The 2-day virtual conference features 7 panel discussions with a total of 23 experts, discussing key aspects of the agreement and its role in enhancing Africa's economic development.  African trade and international experts, Legal experts, Tax authorities, Representatives from African and international business, and regional trade blocs are all invited.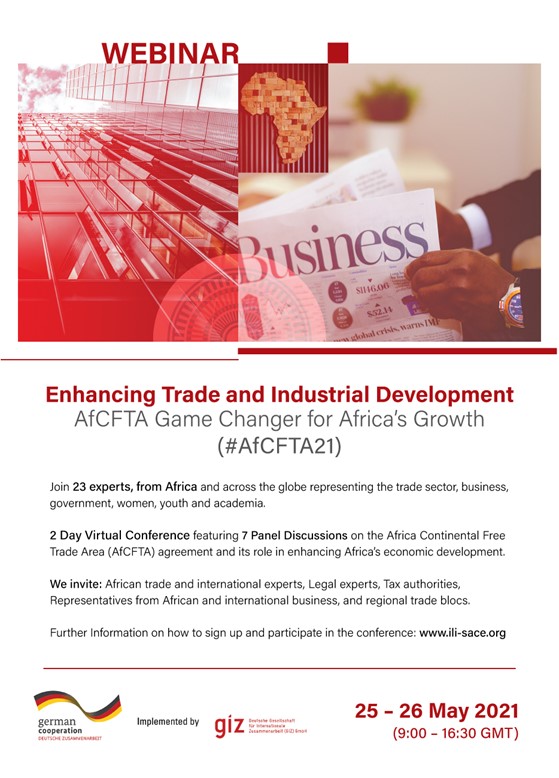 Spaces are limited and registration is on a first come, first serve basis. Click here to register. (Please include your designation, title, organisation and country in the message box.)
Theme: "Enhancing Trade and Industrial Development - A Game Changer for Africa's Growth" #AfCFTA21
Date: Tuesday 25th May – Wednesday 26th May 2021
Time: 09.00 AM – 16.30 PM (GMT), 12.00 – 19.30 (GMT+3), 05.00 – 12.30 (EST)
Format: The conference will host 7 panel discussions over 2 days with renowned experts from Africa and across the globe representing the trade sector, business, government, women, youth and academia.
Objective: The conference hosted under the auspices of the AfCFTA will sensitize a cross section of key African stakeholders and lawyers on the importance of the agreement in enhancing Africa's economic development.
The Agreement calls on member states to allow tariff-free entry of goods (90%) requiring free access to commodities, goods and services across Africa – substantially increasing intra Africa trade as a result.
The conference is a pivotal opportunity for legal and trade practitioners, policy makers and the business community to influence the successful roll out of the AfCFTA ensuring national and regional mainstreaming of the Agreement through an African-wide network.
Place:  Join on your computer or mobile app
Click here to join the meeting
https://teams.microsoft.com/l/meetup-join/19%3ameeting_NmZiNTNiOTMtZmY1NC00MjM1LThiZDctYjEzN2E0MTE3M2Zl%40thread.v2/0?context=%7b%22Tid%22%3a%225bbab28c-def3-4604-8822-5e707da8dba8%22%2c%22Oid%22%3a%22e698aa7f-4eea-4645-9bb7-ad3060583c7b%22%7d
Join with a video conferencing device
Video Conference ID: 123 133 471 4
 (Please click link to join)
Click on the Join the meetinglink provided above
Choose between three options
Continue on this browser
Downloaded the Windows app
Open your MS Teams app if you already have it 
Join the webinar
Trouble Joining? Contact  magnus.tedeku@giz.de
Rules of Engagement
Mute your microphone - To help keep background noise to a minimum, make sure you mute your microphone when you are not speaking.
Be mindful of background noise - When your microphone is not muted, avoid activities that could
Timing- Participants should log into the virtual meeting room 15 mins before the start of the webinar.
Limit distractions- You can make it easier to focus on the conference by turning off notifications, closing or minimizing running apps, and muting your smartphone.  
Utilize Chat function - please use the chats functions to ask questions.
See you there! #AfCFTA21